Knox Audiology – Passionate about giving
At Knox Audiology we're passionate about you hearing brilliantly and improving lives– so much so, that together we help the world to hear as well. Every hearing consultation we do makes a difference in our world through B1G1 global giving – B1G1: Business for Good.
The concept is simple – whenever you buy something from us, we give something to someone in need.  Every time we do a hearing test, something great happens. When a hearing aid is purchased through out clinic, a goat is automatically provided to a family in Kenya to provide income, milk and food! Read more about our Direct Giving Impact
B1G1: Business for Good
B1G1: Business for Good exists to make things possible – to give our business the power to change lives. Simply, effectively and habitually. And most importantly, no matter how much we give, whether in amounts big or small, we get to see the tangible impact our giving has on people whilst also knowing that 100% of what we give is passed directly to the causes we've chosen. With B1G1, we connect our business even more deeply to our own values and to others.
This 2-minute video explains some more. Click here to open.  Or you can take a look at the B1G1 Story Board here.
100% of contributions made by B1G1 businesses like Knox Audiology are passed directly to the Worthy Cause organisation through B1G1 Giving. B1G1: Business for Good takes nothing from the contributions, nor does it receive funds from charities in any way for the services it provides.
B1G1 is raising awareness of the dangerous and long lasting effects of the cultivation of palm oil in Indonesia.  The link below captures a recent B1G1 tour to Borneo that is sure to inspire and educate!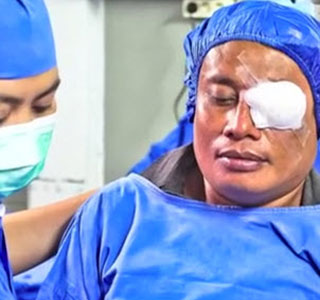 A joint initiative, B1G1 is partnering to restore eye sight in Bali!
'Never doubt that a small group of thoughtful, committed citizens can change the world; indeed, it's the only thing that ever has.' ~ Margaret Mead
B1G1 Study Tour 2015 – India
One of the hardest things to do is to sum up in just a few words the tremendous exhilaration, impact and connection that goes on during B1G1 Study Tours.  The tours take 10 months to plan – there's so much detail to get right.  And then for 5 straight, full-on amazing days we experience it.
The best way we know how to capture it is not through our words and pictures but through the words and pictures of those who experienced the elation and inspiration of simply 'being there'.
Video: B1G1 India Study Tour Video
Blog #1: Everything has Changed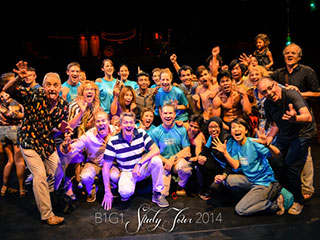 B1G1 Study Tour 2014 – Cambodia
B1G1 Study Tour 2013 – Cambodia
The 2013 Cambodian tour is brilliantly summed up by Rob O'Byrne, a tour participant and B1G1 Partner from Sydney.  He said this "Get on the tour – it's just life-changing".  But it's not just life-changing for us, it's actually changing lives int he process.  And that was best illustrated on this tour by the full day we spent building an amazing playground for (and with!) 400 children.  To see their smiles from the simplest things is truly stunning.
And then meeting directly with the people involved in making this (and many other) activity gives you unparalleled insights; insights which simply stay with you forever.
Read more on what happened during the B1G1 Study Tour 2013 in these blog posts:
Blog #1: Life Changing in Cambodia
B1G1 Study Tour 2012 – Borneo and Bali
Imagine meeting with someone who's planted 200,000 seedlings in the past 2 years.  And he's done that to save the environment of Orangutans threatened by the desecration of the forests for Palm Oil. Never again do you doubt the ability of one person to make a difference.
Then come face to face with the Orangutans is unforgettable too.  And then segue from that sight into meeting with people who've lost their sight.  Then you go into the mobile operating theater to see their sight restored.  And you look around and see 500 people who'll be impacted by that.
As one of the participants wrote: "…to see how such small giving can produce such huge results will stay with me forever."
Read more on what happened during the B1G1 Study Tour 2012 in these blog posts:
Blog #1: We met BIG TOM (and more)
Blog #2: Seeing the light in 15 minutes
B1G1 Study Tour 2011 – Kenya
This was our first Study Tour and one in which we learned so much – not the least of which was the difference between handing out and handing UP.  Just imagine meeting 200 local women who proudly call themselves "Professors of Goatology".  Women who are now running complex spreadsheets to oversee their goat-breeding program – something that B1G1 has helped turn into the largest sustainable goat project in Kenya.
And all of this is happening in a village which you did not want to admit you were from.  Now it's a community totally transformed, from the way the schooling works to the hospital made possible by those "Professors of Goatology".  To be part of this on the Study Tour was just an indelible, never-to-be erased experience.
Read more on what happened during the B1G1 Study Tour 2011 in these blog posts:
Blog #1: Giving goats that transform
Blog #2: It really does take a village