How to Refer your patients
Knox Audiology is pleased to work closely with GP's and other professionals in the healthcare industry. Please find links to our Services chart and Interactive Referral pads for your convenience.  A medical referral to our practice ensures we can offer a Medicare rebate to your patient.
Knox Audiology has four convenient sites including: Wantirna, Boronia Doreen and Kew. The services offered in Doreen and Kew differ slightly to those offered in Wantirna & Boronia. The service charts detail the individual services available at each of the clinics.
For more information please contact us (03) 9800 5697 for details.
Download Services Charts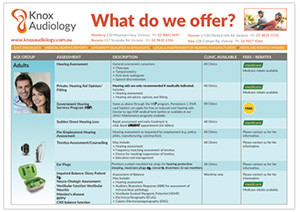 Download Interactive Referral Pads