Wireless Hearing & The Latest Technology
Recent and Effective Digital Technology
Did you know hearing aid technology is constantly advancing? Research and development of new audio technology is evolving rapidly. New hearing aids are released by manufacturers every 6 months. There is an array of wireless accessories that boost hearing aid performance with minimal effort. Many new hearing aids have the capability to connect wirelessly to a smartphone, so the wearer can use their mobile device as a remote and even stream calls directly to their hearing aids!
Our audiologists are in close contact with the researchers who develop sound technology and know how these developments are incorporated into new hearing aids. This knowledge helps your audiologist to offer you the most recent and effective digital technology to suit your hearing needs.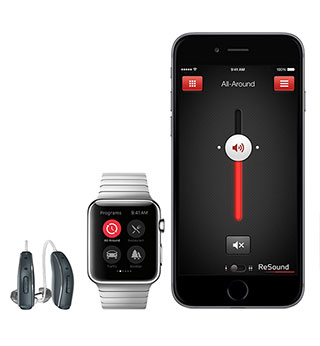 Phonak: Marvel
Phonak Audéo Marvel hearing aids connect directly to either your Apple iOS or Android smartphone or other Bluetooth® enabled devices. Use them for hands-free calls, listening to TV, music, e-books, podcasts and so much more.The my phonak app can be downloaded from the google play or apple app store for free.
These hearing aids are available in rechargeable and non-rechargeable technology.
Phonak are also industry leaders in the use of remote microphones. Remote microphones allow a sound to be transmitted to the hearing aid user using a Bluetooth signal. This allows the listener to hear sounds from some distance, as if they are right next to them. This dramatically improves hearing in noisy environments like cafes and restaurants, lecture rooms and open plan offices. Phonak's latest development is to include directional microphones, touch screens, rechargeable, pass-around microphones and a multimedia hub into their remote microphone range.
GN Resound App
GN Resound have led the way integrating their hearing aid technology with Apple products. Now you can control your own hearing aids using your iPhone, iPad, iPod and even using your Apple Watch.
The GN Resound app, which is free, can be used to stream your TV, radio, and podcasts directly through your hearing aids. The app can be used to adjust the volume, reduce background noise and directionality of the microphone in your hearing aid. These very popular digital hearing aids are connecting people with their devices.
Unitron: Stride P
Unitron have been awarded a prestigious Red Dot Award for a third consecutive year, for their latest digital hearing aid, the Stride P. The Red Dot awards are judged by independent design experts, and this year, award winners were chosen from 5200 entries.
The Stride P is a power hearing instrument that is able to provide premium sound in a tiny, attractive design that hugs the back of the ear. The controls are intuitive and tactile. This, combined with a high quality digital sound processor, makes this product an excellent choice for clients with severe hearing losses.
Oticon: Opn S
Oticon Opn S comes with improved technology that gives your brain access to the relevant sounds around you. Available in a rechargeable solution (as well as non-rechargeable), these aids have the ability to connect to you iphone or ipad, so you can stream phone calls, music and videos straight to the hearing devices.
The Oticon On app can be downloaded from the apple app store for free.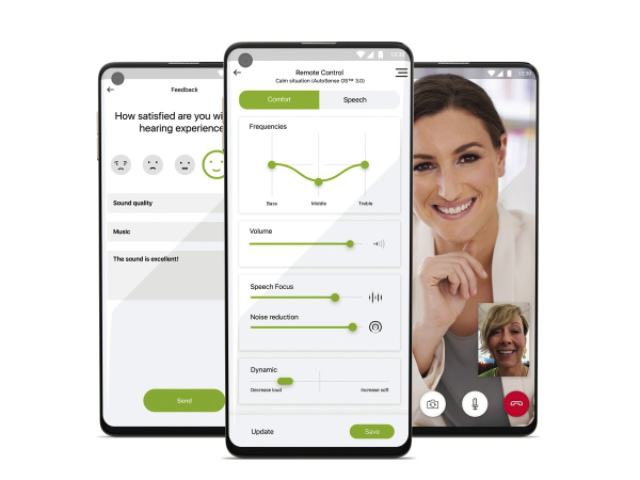 Remote Control Apps
The My Phonak App turns any smartphone into an advanced remote control for Phonak Marvel hearing aids. By downloading the app to your smartphone from the apple app store or google play store you can use your phone like a remote control. Wireless technology also allows you to stream phone calls, music and sound directly to your hearing aids!
TV Connector
The TV connector is an easy-to-setup and easy-to-use device that can be used with Phonak Audeo Marvel hearing aids. The TV Connector streams directly to the hearing aids within a range of up to 15 meters. As soon as the TV Connector is connected to the TV and power source, it will automatically detect any compatible hearing aids within a 1 meter radius. No need for a complicated pairing process.
Clip-on Streamers
The small and stylish Phonak ComPilot Air II offers excellent stereo sound quality while connecting Phonak hearing aids via Bluetooth to a variety of audio sources: cell phones, MP3 players, tablets, laptops and computers. Combine with Phonak TVLink to turn your hearing aids into wireless headphones, or with Phonak RemoteMic for better understanding over distance.
Wireless Microphones
A small and light Remote Mic is an easy solution for one-to-one conversations over distance. Clipped onto the speaker's clothing, it transmits the speaker's voice directly to both Marvel hearing aids over a distance of up to 20 meters (66 ft). If the hearing aids are an older technology this device can still be used via a ComPilot or ComPilot Air II.
TV/Music/Phone Streamer
This device can be used with older Phonak model hearing aids that do not have the ability to directly stream to your mobile phone. It improves speech understanding by turning enabled hearing aids into wireless stereo headphones for TV and other multimedia sources such as a mobile phone. The streaming distance of up to 30 meters (100 ft) allows you to move around the house without missing what is happening on the TV.
Cordless Phone Solutions
The cordless phone solutions can be used by the whole family. It is unique in its ability to connect automatically and wirelessly to Phonak hearing aids. Studies have shown that hearing the phone conversation in both ears can improve speech understanding by over 40%.