'Better business, Better life, Better world' – Book Launch 25th November 2016
By Helen Campbell, Daniel Priestley, Masami Sato and Paul Dunn.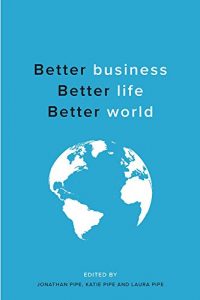 Now Here!! In Bali #B1G1 small business' from around the world gathered with a passion for making a positive difference in our world. 34 of us then penned a chapter to inspire the generations to come. Do message me here or email if you would like to have your own copy of these pearls of wisdom or click on the Amazon link especially for our international connections.
Extraordinary entrepreneurs, business thinkers and philanthropists from around the world sharing the key advice they would give their grandchildren to help them build better businesses, enjoy better lives and make the world a better place. Between them they have advised governments, served start-ups to Fortune 500 companies, won awards and acclaim, written 38 other books and been featured by Forbes, Inc, The New York Times, CNN, TEDx  and the BBC.
Reviews
A powerful masterpiece. Could easily rival some of the great management books of our time. –Mark Lloydbottom – Author, international speaker and creator of IMPACT for Accountants
A book that really does have the power to change millions of lives. –Andrew Griffiths – International bestselling author of 12 books, speaker and global mentor
A beautifully profound book capturing wisdom that you'd have to live many lifetimes to acquire. Thoroughly absorbing to read and life changing in its content. –Rob Brown – Author of Build your reputation and CEO of The Networking Coaching Academy 34 extraordinary entrepreneurs business thinkers
If you would like a copy of the NEW book email or leave your name and contact details on 98393350 or directly on Amazon. Price $25. Profits will be donated to worthy causes around the world ???? including Free to Shine preventing child trafficking in Cambodia using education.